Walk with a Doc
Beginning January, 2020, Adventist Medical Center (AMC) Lifestyle Class has been sponsoring a monthly "Walk with a Doc" outing. (Walk with a Doc (お医者さんと歩こう): A nonprofit international organization dedicated to motivating people around the world walk for their health)
The most recent excursion took place on Sunday, May 31, when 25 patients and friends of AMC drove north to Okuma, meeting just outside the entrance to the Hiji Falls Campground (比地大滝キャンプ場入口).
Although the weather forecast called for rain, and the humidity was close to 100%, the skies sported a mixture of bright sunshine and white fluffy clouds at our 10am start. The 2.9km well-maintained mostly hard-packed gravel trail, with sections of boardwalk and wooden steps, paralleled the Hiji River. One 25m long bridge carried us high above and across the river.
Varied hews of spring green provided the perfect backdrop to the sounds of running water and singing birds, and the silent flight of colorful butterflies. Feelings of peace and mental relaxation came easily in this environment.
Hiji Falls did NOT disappoint. Recent rains resulted in above-average flow down the 25m rock-faced cliff. Restraining ropes and posted signs warned us against the temptation to cool off in the pool and river below the falls.
The physical exertion in the heat and humidity resulted in mild heat exhaustion in one of our hikers. Removing her long-sleeved sweater, encouraging fluids, and frequently replacing a cool soaking-wet towel around her neck, resulted in full recovery. The walk back to the trailhead was uneventful.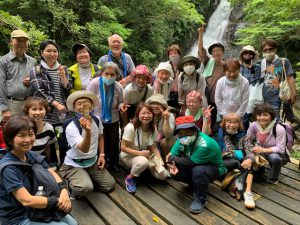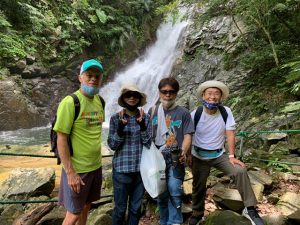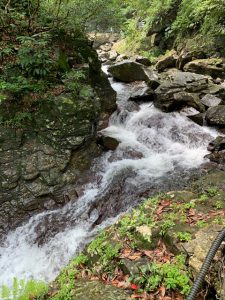 After a delicious picnic lunch at the trailhead campground, a sudden blast of cool air, followed closely by the darkening midday sky, motivated everyone to run for cover in our
nearby vehicles. The forecast squall had finally arrived, but with perfect timing, so as NOT to spoil our almost perfect outing.
We now look forward to the next "Walk with a Doc" excursion on Sunday, June 28. Look for the coming announcement, soon to be posted. Plan to join us for the round trip walk between Agarihama and Ozato Castle Park, starting at 8am.