Today, a new technique called dental implants attracts people's attention because they look like a natural teeth and give an improved appearance.
What is Osseointegration?

It was Dr. Branemark of the University of Gothenburg, Sweden who first discovered that bone can be made to integrate with titanium. Dr. Branemark introduced the term "Osseointegration" and he developed this discovery for 13 years for the safe implementation of this treatment modality in the clinical settings.

Dental implants were first used in 1965, the patient had successfully used his implants for over 40 years.
Titanium dental implants have been widely accepted and used by over 140 million patients worldwide.
Many research studies have clearly established the safety and effectiveness of dental implants.

* The word "Osseo" means bone in Latin and "integration" means combining something with another to form a whole in English.
Dental Implant Specialist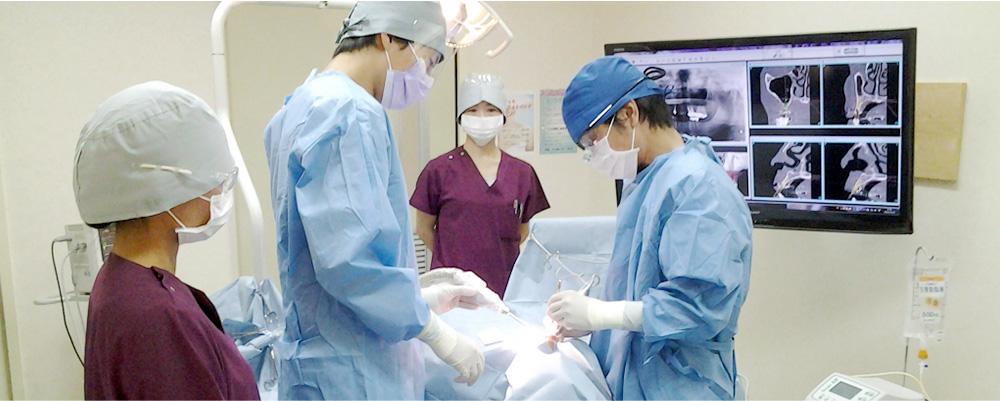 DR.TAKASHI TOMA D.D.S, Ph.D.
Dr Takashi Toma is a certified Authority of Implantology & Clinical Oral Implantology by ISOI (International Society of Oral Implantology).
We will provide safe and reliable dental implant care that meets the needs of patients.
Are you bothered by your tooth loss?
Tooth loss may be caused by tooth decay, gum diseases or injuries.
Tooth loss can occur in different levels. You may lose one or more teeth, but you could lose upper or lower teeth altogether.
Complete dentures are used when all of the teeth are missing, while partial dentures or bridges are used when some natural teeth remain. Loss of all the teeth in an arch requires a complete denture.
Here's a few of the complains people have regarding bridges and dentures:
I hesitate to show my teeth even when I smile because my denture looks very much different from other natural teeth.

I cannot enjoy eating many of my favorite foods because they get stuck underneath metal claps or bridge.

My denture does not fit well, and I have already had it remade several times.

Wearing ill-fitting dentures while eating or playing sports can be bothersome.
Wearing an uncomfortable full denture may cause the following problems:
Difficulty in pronouncing certain words and causing stress to speak in public.

Having food get stuck under a denture during a meal.

The reduction of taste because so much of the oral cavity is covered.

Removing your denture to rinse after every meal may be too troublesome to go out to eat or for a trip.

Worrying about bad breath due to dentures wearing when meeting people.
Today, the technology of Dental Implants (artificial roots and teeth) has been developed to assist patients with these problems.
An outline of the treatment
A tooth consists of a crown and one or more roots. A missing tooth means a missing root as well. For a lost tooth, a dental bridge would be placed requiring adjacent teeth to a ground down. A partial denture with a metal clasp can be made to replace missing molars.
There is a lot of force applied to teeth and jaw when we bite (the force applied to a molar tooth is said to be approximately equal to one's weight). In the case of bridges, approximately 1.5 times force is applied to the tooth. If the grounded teeth holding the bridge are lost, they need to be replaced with even longer bridges.
With no tooth root, the bone will become thinner because there is no stimulation of biting. In addition, originally well-fitted denture will gradually dislocated due to the movement of remaining-roots so that they need to be replaced with new dentures.
Dental implants are artificial roots and teeth (usually titanium) that are surgically placed into the upper or lower jaw bone of the gums and supporting bone. Dental implants replace teeth without affecting bordering healthy teeth. Acting as the natural tooth roots, dental implants are known to provide the necessary pressure to the bone and prevent further bone loss.
In case of losing neighboring one or two teeth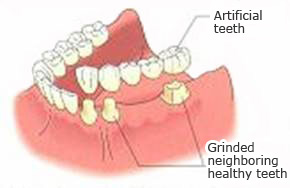 Bridge treatment

The neighboring teeth are grounded down and covered by a crown.

The pressure imposed with the brunt of chewing may cause further damage to already reduced teeth.

Since the tooth has no roots there is no stimulation of force when chewing and this may cause the bone to become thinner.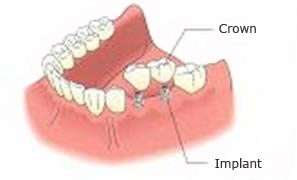 Dental Implant Treatment

Implant will be placed first and then a crown will be attached on top of it.

Unlike a bridge that relies on neighboring teeth for support an implant replaces one or more missing teeth without affecting adjacent teeth.

The biting force is applied to the gum tissue allowing the gum to stay healthy.
In case of losing multiple teeth including back molars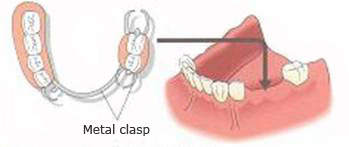 Partial denture treatment

Partial dentures are attached to healthy teeth by the use of metal clasps.

A lot of strain is placed on the teeth with the clasp around them.

There could exists a feeling of constant discomfort due to the metal clasps.

Not only are the clasps uncomfortable, but they diminish the beauty of a natural smile giving a not so clean aesthetic appearance.

Unless through cleaning is done food could easily get stuck under the metal clasps causing bad breath or tooth decay.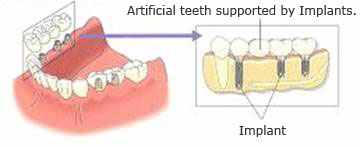 Dental Implant Treatment

The artificial teeth are securely attached to the implant, providing excellent stability and comfort to the patient.

Artificial replacement teeth function just like natural teeth because dental implants fuse with jawbone, forming a secure foundation for replacement teeth.

Dental implants can help preserve healthy natural teeth because they do not need support from the neighboring natural teeth like bridges do.

The teeth attached to implants are very natural looking and often enhance or restore a patient's smile!
In case of losing all natural teeth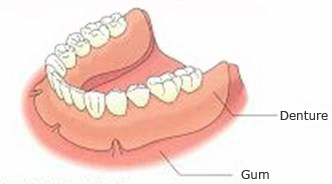 Full denture treatment

Full dentures fit over gums.

Dentures have been known to be unstable and lack retention.

Unable to chew hard food.

Due to restricted tongue movement there is a loss of taste associated with dentures (full or partial).

There could also be some pain resulting from food getting stuck between the gums and the appliance.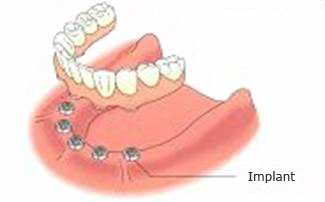 Dental Implant treatment

Artificial teeth are fixed on to the implants.

Implants are securely attached to the jawbone, providing excellent stability and strength.

Dental implants function like natural teeth, allowing you to chew and taste in much the same way as before.

Food debris hardly get stuck.

Dental implant appears and looks like natural teeth, making you look younger.
Examination and Treatment plan

There are many treatment options available. Treatment depends on the number of teeth lost, solidity, size and implant location.
Upon careful and comprehensive examination a treatment plan will be made to your specific needs. The dentist will not only take into consideration the amount of force used on the implants, but will also consider the hygiene management of your implant and how that will better fit into your lifestyle.
The first implant surgery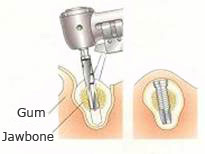 The titanium implant is placed in the jawbone.
Healing period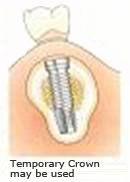 During 3 to 6 month of healing period after the first implant surgery, the implant should fuse to the bone (Osseointegration). During this time, temporary crown may be used in some cases.
The second implant surgery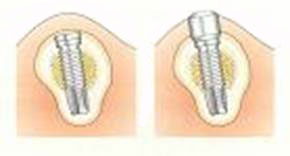 A second surgery may be required in order to place the "post" that will hold the artificial tooth in place. Another 1-6 weeks should be expected to allow the gums to heal.
Making and placing the artificial teeth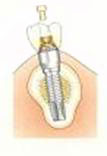 After several weeks of healing the artificial teeth are made and fitted to the post portion of the anchor. The teeth are made to match the shape and color of your existing teeth.
After a healing period, the artificial teeth are securely attached to the implant, providing excellent stability and comfort to the patient.
Maintenance and regular check-up
You will receive care instructions when your treatment is completed. Maintaining good oral hygiene and regular dental visits will aid in the life of your new implant. A six months check-up is provided to ensure your new implant is in good condition and all teeth are in proper occlusion.
Initial exam
35,000 yen
Panoramic radiography , Study model , Surgical stent , Blood test , Sim plant ,
(CT Sim plant)
Dental implant surgery
¥200.000yen (First implant placed)
¥175.000yen (Second implant placed)
¥150.000yen (Third implant placed)
Surgery fees and implant materials
*Additional fees may apply if extra bone graft surgery is needed.
・Bone Graft/¥80,000 yen
・Socket lift/¥50,000yen
・Sinus lift/¥120,000 yen

Prosthesis
¥70,000 yen (Gold crown, Hybrid crown)
¥100,000 yen (Ceramic crown)
¥120,000 yen (Zirconia crown, Porcelain crown)
Fees include impressions, lab fee, materials and oral hygiene instruction.
*(Once occlusion has been checked a crown(provisional crown) will be manufactured to prevent any unnecessary inflammation to occur. If needed, the tooth shape may need adjusting. Provisional crown will be needed for the treatment of front teeth.
・Provisional crown ¥30,000 yen
Maintenance
¥3,000〜yen
Exam fee, X-ray, Brushing instruction fee /each visit scheduled at 1/4-, 1-, 3-, and 6-month intervals.
* 5% consumption tax will be added to the above fees.